HOW ABOUT A SCANTOOL FOR YOUR CAR'S COMPUTER FOR UNDER $100?
Have you ever had that pesky "Service Engine Soon" light flash on your dashboard? Not only is it annoying, but it trying to warn you about a system problem in your engine. So what do you do about it? You pull into the dealership and ask if they can tell you why the light is lit. Sure they can! For a mere $75 they will connect a scanner to your car and read the codes for you. Then you can either let them fix it for you or you can take their print out and go get the parts and fix it yourself.
Now you have an option. You are pretty handy and of course you own a Personal Computer, so why not take that $75 and put it towards your own scan tool? Up until now that would not have been possible, you would have had to lay out hundreds of dollars for a scan tool, perhaps more like a few thousand dollars! If you are interested, read on . . . . . !
If your car was built from 1996 (USA) on, your system is what is called OBDII compliant. Vehicles built earlier than that were OBDI compliant and even earlier models were not compliant to any standard. Those older cars made it easier to read codes stored in your computer. All you needed was a bent paper clip to insert in the Assembly Line Data Link (ALDL) connector and then you could read a flashing sequence on the SES light and derive all of the stored codes. (see http://www.misterfixit.com/autorepr.htm under computers and their fault codes for more infomation)
I have been given the opportunity to sell a fantastic product that will read the fault codes on virtually all automobiles that are OBDII compliant. There are three versions of this scanner, ISO, VPW, PWM. These three versions cover any and all automobiles which are OBDII compliant which means all American and most foreign vehicles.
These are the major components of each kit - two interface cables and a card
Also available is the card enclosed in a metal box.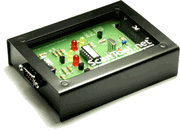 If you are interested in purchasing one or more of these kits send me an e-mail including your Year, Make and Model and I will tell you how to purchase one.
---
---
UPDATE JUNE 2006 - THE NEWEST SCANTOOL IS NOW AVAILABLE. IT IS CAPABLE OF SCANNING ANY AUTOMOTIVE COMPUTER WHICH IS OBDII COMPLIANT (MANUFACTURED AFTER 1996). IT IS CALLED THE ELM5 AND IS AVAILABLE NOW FOR ONLY $139.95 PLUS SHIPPING AND HANDLING OF $8.95. THE ORIGINAL SCAN TOOLS ARE STILL AVAILABLE FOR $99.95 BUT THEY ARE SPECIFIC TO EACH OF THE THREE PROTOCOLS. THE ELM5 COVERS ALL PROTOCOLS!
TO ORDER ONE SIMPLY GO TO PAYPAL AND SEND ME THE PAYMENT FOR EITHER ONE. IF YOU WANT THE ORIGINAL ONE MAKE SURE TO SPECIFY THE YEAR, MAKE AND MODEL.

Back to the index page (top level)
Copyright © 1996, 1997, 1998, 1999, 2000, 2001, 2002, 2003, 2004, 2005, 2006 by Bob Hewitt - All rights reserved